Amazon's Prime Air delivery drone has some great new technology but the service faces strong and persistent regulatory hurdles.
Amazon's drone delivery service is in the news again, this time with a new drone named the "MK27." As the latest iteration of Amazon's Prime Air delivery drone, it's apparently safer, more efficient, and more stable than previous models, according to Amazon's CEO Worldwide Consumer, Jeff Wilke. Wilke also said the company expects to scale the Prime Air delivery drone quickly, with the hope that it will be able to bring packages to customers "within months."
What's old?
For some, this may sound like déjà vu, and they'd be right. In December 2013, Amazon CEO and Founder Jeff Bezos told "60 Minutes" that drones would be flying to customers' homes within five years. But that deadline came and went due to the many regulatory and technical hurdles that drone delivery companies face. Since Amazon first announced its plan for a drone delivery service, the company has gone through more than two dozen drone designs, none of which was able to adequately avoid other aircraft, objects, or people on the ground.
The Federal Aviation Administration, which regulates commercial drone use in the U.S., has approved previous Amazon drones for test flights, but each new prototype needs a special airworthiness certificate. Notwithstanding, the FAA told Forbes it has approved for Amazon one year of research and testing, allowing the company to operate its new unmanned aircraft for research and development and crew training in authorized flight areas—though not for deliveries.
What's new?
Still, to Amazon's credit, they have been hard at work moving drone technology forward for all. This newest drone comes packed with some impressive features, including artificial intelligence that allows it to operate more autonomously. For example, if the drone's flight environment changes while it's in transit or it comes into contact with a moving object while approaching the delivery destination, it will either make an appropriate evasive move, delay delivery, or abort delivery altogether. For most drones, this kind of "sense and avoid" behavior is performed by a remote pilot. In Amazon's case, the drone employs proprietary computer vision and machine learning algorithms that can detect people, animals, and even wires and know what to do about them as they descend into, and ascend out of, a customer's yard.
The other "cool factor" of this drone is its hybrid design. As this video shows, it takes off and lands vertically, like a helicopter, and flies horizontally and aerodynamically like an airplane—and it transitions between these two modes. While hybrid aircraft are nothing new, Amazon's drone avoids the common shortcoming of most hybrid "tail-sitter" drones like this one by including a vision positioning system to keep it stable in the wind when landing.
When can I enjoy drone delivery?
All said and done, you can scratch that "within months" phrase. Realistically, Amazon is looking at a couple of years for any regular delivery operations—and those would be restricted. Mind you, it will be restricted because the FAA has yet to work out solutions for old and persistent problems like identifying drones, flying them over people, flying them in urban areas, and managing unmanned aircraft traffic, to name a few. Until then, we're likely to see more headlines. Who knows, perhaps you'll be one the lucky first recipient to get an emergency package of diapers delivered to your back yard via Amazon Prime Air once they begin testing.
Image credit – Photographer: Joe Buglewicz/Bloomberg © 2019 BLOOMBERG FINANCE LP
This post first appeared on Forbes.com
There's some good information in the FAA's new five-year Unmanned Aircraft Systems (UAS) forecast, but there are reasons to doubt the accuracy of the agency's projections in two areas that have captured attention: the claims that there will be roughly threefold growth in the numbers of commercial drones and UAS-certified pilots. Here's the good, the bad, and the ugly in the report.
The Good
There is some good analysis in this report. For example, it seems the FAA finally gets that drones have a wide variety of price points and the bulk of commercial activity has been driven by low-cost consumer-grade aircraft:
"Currently, the consumer grade dominates the non-model sector with a market share approaching 95 percent. However, as the sector matures and the industry begins to consolidate, the share of consumer grade non-model aircraft is likely to decline but will still be dominant. By 2023, FAA projects this sub-sector will have around 85 per-cent share of the overall non-model sUAS sector."
This insight is mostly consistent with independent surveys and reports like this one, which finds more than 91% said they bought drones costing over $2,000 for professional purposes—either governmental, academic, or business.
The other good thing in this report is the FAA's admission that the historical commercial drone registrations outpaced their own predictions by 80%. Previously, they predicted a healthy growth rate of more than 40%—but they underestimated it.
"Last year, we forecasted that the non-model sector would have around 229,400 sUAS in 2019, a growth rate exceeding 44 percent from the year before (2018). Actual data far exceeds that trend with over 277,000 aircraft already registered by the end of 2018. Our forecast of non-model sUAS last year thus fell short by almost 80 percent for 2018 (or 277,000 actual aircraft vs 158,900 that we projected last year)."
The Bad
A closer look at the report reveals a few oversights and curious assumptions for their forecasts. Some of the key metrics and growth trajectories came from a survey the FAA conducted in June-July of 2018 about commercial activities performed in 2017 under Part 107. The survey sent to 89,000 individuals was intended to get a snapshot of non-model/commercial mission characteristics, including locations, aircraft types used, and altitudes flown. But the response rate to the survey—which was complex and time-consuming—was low (approximately 8 percent).
Still, the report projects the U.S. commercial drone fleet (small non-model UAS) to nearly triple from 277,386 in 2018 to 835,211 in 2023, an average annual growth rate of almost 25 percent. However, the main oversight is that most people don't deregister their aircraft. They may if they register a new one, but if they stop using one they are not going into the Registry to delete it. This keeps the current number inflated.
Another noticeable problem is the survey results are inconsistent with internal FAA data. And to be fair, the FAA admits there are big variations between the survey results and their aircraft registry. For instance, almost a third of survey respondents use one small drone; their aircraft registry (i.e., the Registry) indicates 55 percent use one small drone. The survey indicates that, for those operating multiple small drones, 54 percent operate 2-9, but the registry claims just on third fly multiple drones.
Another issue is the survey found the largest commercial use for drones was in R&D and in training/education missions (21%). But year over year, other industry benchmark surveys find the number one use for commercial drones is aerial photography and video. This disconnect is no surprise given how the FAA worded their survey questions. In this instance, the question asked for the number of missions performed on average per aircraft in each of activity they listed, not about its major intended use. Given most businesses were new to drones in 2017, it makes sense that the FAA found a lot of aircraft flew training missions back then—not actual industrial missions such as mapping and inspections as happens today.
The Ugly
Perhaps the biggest problem with the FAA report is in the Remote Pilot Forecast section. It predicts the number of UAS-certified pilots is "set to experience tremendous growth following the growth trends of the non-model sUAS sector." It predicts commercial drone activities may require almost 350,000 remote pilots in five years—a three-fold increase. Many in the press have run with this assumption and taken it to mean that the commercial drone industry is set to triple in the next five years. But a closer look calls this into question and makes that forecast specious.
To start, the FAA does not maintain a database showing the number of remote pilot certificate (RPC) holders who are current. They only report gross new RPC holders. As reported here, 126,299 individuals have been issued a remote pilot certificate as of March 15, 2019. But as of the same day, only 7,306 individuals have taken the remote pilot certification recurrent knowledge test, which is required every two years. Given remote pilot certification started in August 2016, that means only 20% of the original pilots have renewed their license to operate commercially. To be fair, that figure may be higher but not by much since Part 61 pilots with an existing RPC and have met their flight review requirements are considered RPC current.
If the number of certified remote pilots is the benchmark for commercial drone industry growth (because, almost uniformly around the world, regulations demand each drone operation have one pilot), it seems crucial the FAA keep and report a database on current RPC holders in the U.S. That information would enable all to predict with greater certainty the growth of the commercial drone industry.
This article first appeared on Forbes.com
Image: A drone operator demonstrates a DJI Matrice 100 drone at the Applied Drone Technology for Business Conference. Photographer: Paul Faith/Bloomberg © 2019 BLOOMBERG FINANCE LP
Increasing use of drones surfaces three best practices for state and local police, sheriffs, fire departments, and teams in EMS, search and rescue, tactical response, and disaster response.
I just released two new drone industry guides titled Three Essentials For Building Your Law Enforcement Drone Program and Three Essentials For Building Your Fire and Rescue Drone Program.
These are the first in a series of papers intended to share the latest lessons learned in specific industries and how to sustain and grow a drone program.
These guides offer essential best practices for law enforcement and fire and rescue teams. They answer questions like:
What have current users learned about what works and what doesn't?
What are the most important topics to know to keep your drone program ongoing?
And where should you go to learn what's next?
Here is an excerpt from the law enforcement guide:
Essential 1 – Take advantage of the latest technology
New technology is progressing rapidly in drones and aerial imaging processing—more rapidly and at lower costs than manned-based aviation solutions. It is important to keep up with the changes that could benefit your program. Nearly every week, a new product is announced. Two of the most exciting recent developments are smaller combination sensors and augmented reality.
The new sensors, like the one found on the DJI Mavic Enterprise Dual, combine visible and thermal imagery in one sensor. Multiple display modes allow you to see either the infrared or the visible image or a combination. Isotherm readouts help you get accurate heat measurements on a variety of objects and scenarios. This gives tactical teams more flexibility–they may no longer need to fly two drones each with its own sensor or deal with the complexity of landing and swapping out two separate sensors on the same drone.
ACTION: Keep up to date by attending at least one commercial drone show a year. When evaluating drone solutions or software applications, ask how new capabilities can meet your mission requirements. If you don't have a list of mission requirements, start with a narrow scope of operation. For instance, we recommend you treat drones as a response tool—not a patrol tool—and pick from a list of four operations that your constituents would find most palatable: search and rescue, accident scene documentation, the pursuit of an armed suspect, and disaster mitigation.
The guides describe what many police, fire, and emergency responders have learned from their programs and recommend the actions you should take for successful implementation and ongoing use.
You can download the free guides from our sponsor's site here:
Three Essentials For Building Your Law Enforcement Drone Program: http://bit.ly/2UbrXcY
Three Essentials For Building Your Fire and Rescue Drone Program: http://bit.ly/2vHIiaM
If you have questions about what's in the reports or would like to comment on them after reading them, write to me at colin@droneanalyst.com.
Press Release
Global engineering services leader implements fixed-wing aerial data collection program with support from Delair partner Frontier Precision
High performance drone provides highly accurate 3D data, covers more ground, reduces costs in mining projects
LOS ANGELES – May 7, 2019 – Delair, a leading supplier of commercial drone solutions, along with one of its regional resellers, Frontier Precision, today announced that Wood has adopted the Delair UX11 high-performance UAV for its work in site planning and asset management in mining and quarry projects in the western US. Wood – a global leader in the delivery of project, engineering and technical services to the energy, industry and built environment sectors – is initially deploying the drone to do high accuracy, 3D topographic surveys and materials quantification for mineral mining in Idaho and Wyoming. It is the first fixed-wing UAV Wood has deployed in the Western US.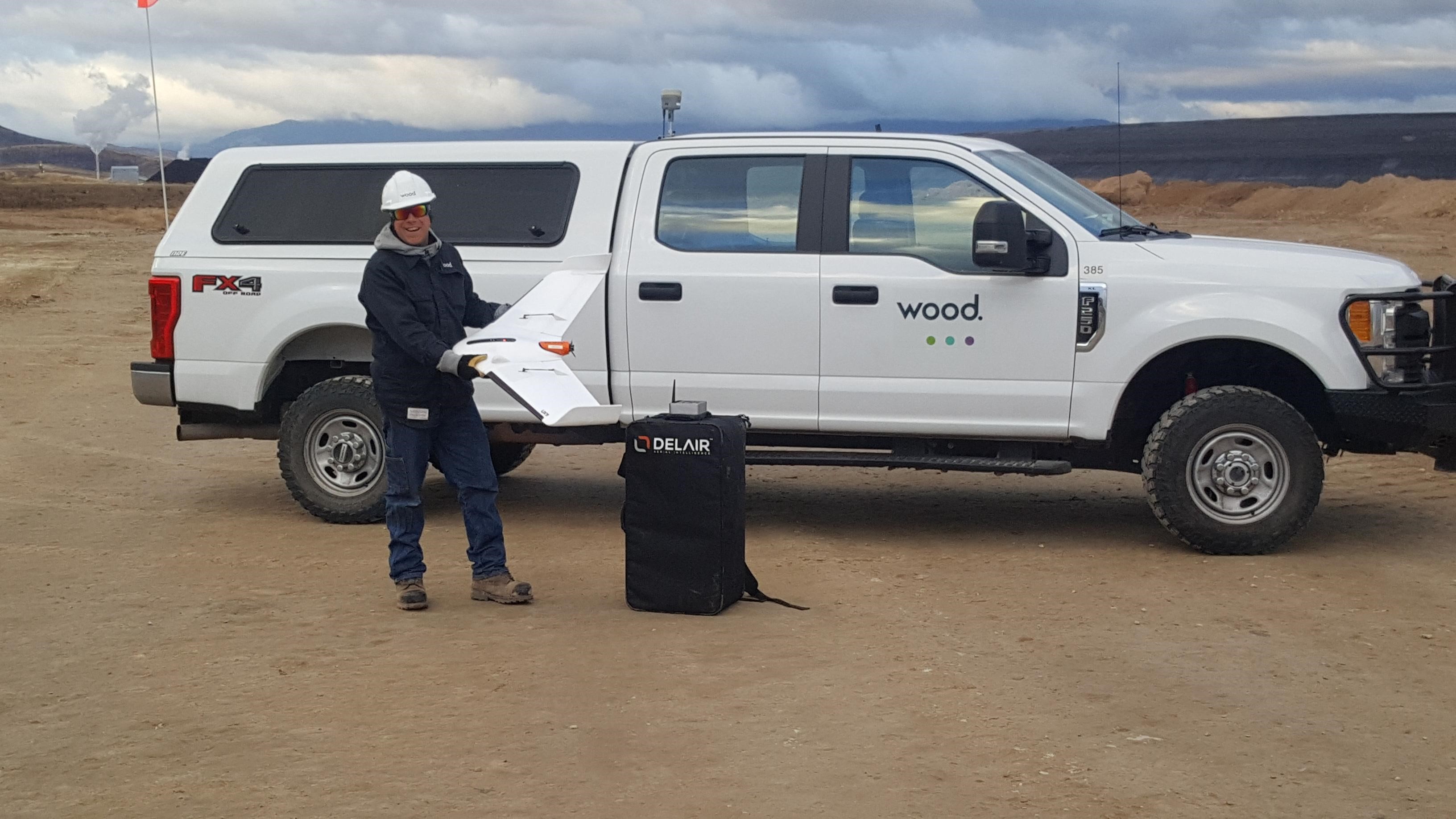 "For the scale of the projects we are performing, and the accuracy required, adopting the Delair UX11 was a logical choice. Its long-range capabilities allow us to cover areas not feasible with other data collection methods like hover craft drones or by foot, so it reduces the cost and time involved. It integrates well with our existing work flows, and features such as the PPK function deliver additional benefits in terms of the precision and flexibility required in challenging environments," said Greg Meinecke, Technical Services Manager at Wood. "We have received excellent support from Frontier Precision and Delair in helping us deploy our first fixed-wing UAV missions and are already seeing results."
Wood is deploying the drone in remote areas where its heavy civils team is performing extensive excavation and site preparation for phosphate mining activities, a project covering more than 200 acres. Of critical importance for operations is an ability to precisely quantify the volume of materials being removed to ensure a high degree of accuracy in planning and invoicing.
Wood turned to the Delair fixed-wing UAV to deal with the scale of the terrain that needed to be surveyed, as well as the challenge of taking measurements in an active mine site area, including the safety hazards of having personnel on the ground in rough terrain and around large, moving equipment. Flying at 400 feet above the project areas and often at times using beyond visual line of sight (BVLOS) flight plans, Wood technicians were able to use the precision data collection features of the Delair UX11 to acquire large amounts of highly accurate imagery that could be processed to generate detailed topographical reports.
"We are able to get surveys covering large tracts of land done in a very short amount of time, so it ends up being much more cost effective for us and the client. More importantly, we can provide the mine owners a great deal of confidence in the accuracy of the work being performed and the quantities of resources involved. In the end, everyone agreed on the material quantities as the technology is very reliable," Meinecke noted.
Frontier Precision worked alongside Wood's engineering and field experts to evaluate the Delair drone, and ensure it met the firm's requirements, including integration with other important tools the firm uses such as AutoCad, Trimble Business Center, and the Pix4D photogrammetry suite.
Wood's team noted the ease of use of the Delair UAV, especially given this was their first experience with fixed-wing flying. The firm was able to train several pilots who specialize in different types of projects, and expects to deploy the drone on other infrastructure, mining and construction projects around the US. The team also noted the Delair UX11's embedded global shutter camera as well as its PDK (post processed kinematic) capabilities as key to ensuring greater precision in its data collection. With PPK, GPS data from both on-board and off-board systems can be matched after the mission, providing higher degrees of accuracy of the images collected.
The Delair UX11 UAV, introduced commercially last year, is one of Delair's top-of-the-line drones. The fixed-wing drone is an innovative hardware-software platform that provides highly accurate images for survey-grade mapping, with on-board processing capabilities and real-time, long-range control via 3G/4G cellular networks or radio links. The platform's enhanced centimeter-level precision along with its efficient operational characteristics make it the most cost-effective solution for large area surveying and mapping.
END
About Delair
Delair is a leading provider of drone-based solutions that enable enterprises to digitize their physical assets through aerial data collection and artificial intelligence-based analytics that turn the collected data into valuable business insights. The company's offerings combine high performance, long range fixed-wing UAV hardware with sophisticated analytics technology and operational services. Its solutions are used globally by customers in industries such as mining, construction, agriculture, utilities, transportation and oil and gas. Delair has strengthened its position as a global leader through acquisitions of companies such as Gatewing, a former Trimble company, and key assets from the company Airware/Redbird. A strategic partnership with Intel and its Intel Insight initiative is enabling some of the world's largest organizations to integrate drone data acquisition and analysis in their digital transformation initiatives. In September 2018, Delair received funding from Intel Capital, further extending an existing partnership to accelerate the development and adoption its data-driven software solutions and the Intel Insight® Platform. Founded in 2011 by experts in the aerospace industry, the company today employs 180 people and is headquartered in Toulouse, France and has offices in Paris, Ghent, Belgium, Los Angeles, Beijing and Singapore. Its solutions are sold in more than 70 countries by a network of more than 100 resellers. For more information about Delair, go to www.delair.aero and on twitter @DelairTech
About Frontier Precision
Frontier Precision is an employee-owned company with 30 years of experience serving survey, mapping, engineering, construction, GIS, forensics, law enforcement, forestry, water resources, mosquito and vector control, and natural resources professionals. As one of the top Geospatial Trimble dealers in the world, Frontier Precision has been at the forefront of technology. The company is providing valuable business solutions in the areas of UAS/Drones, laser-based scanning, 3-D visualization, and virtual reality. Headquartered in Bismarck, North Dakota with locations in South Dakota, Minnesota, Colorado, Montana, Idaho, Oregon, Washington, Alaska, and Hawaii, Frontier Precision has secured a place on the map for their best-in-class team, training support, and attention to customer needs. For more information about Frontier Precision, go to www.frontierprecision.com
About Wood
Wood is global leader in cradle to grave energy life cycle solutions. Wood employs over 60,000 people in over 400 offices in more than 60 countries globally. They have an extended 160+ year history of providing performance-driven solutions throughout the asset life cycle, from concept to decommissioning across a broad range of industrial markets, including the upstream, midstream and downstream oil & gas, power & process, environment and infrastructure, clean energy, mining, nuclear, and general industrial sectors. For more information please visit www.woodplc.com
Stay tuned on the Personal Drones Blog for the latest quadcopter and multirotor news!